Global Metals and Iron Inc. Recycling all grades of scrap aluminum such as cast aluminum, painted siding, old sheet, thermal break, over-sized, extrusions bare and painted, mixed low copper clips, litho, UBC's, of non ferrous scrap metals to both customers North America and abroad .
For more question and information please call at 416-742-7887 or email us at info@globalmetalisnc.com
Aluminium Extrusions "10/10"
Material to consist of new production and old/used 6063 extrusions that may contain up to (but not exceed) 10 percent painted extrusions and 10 percent 6061 alloy extrusions. Must not contain other alloys of aluminum. Material should be free of zinc corners, iron attachments, felt, plastic, paper, cardboard, thermo break, dirt and other contaminants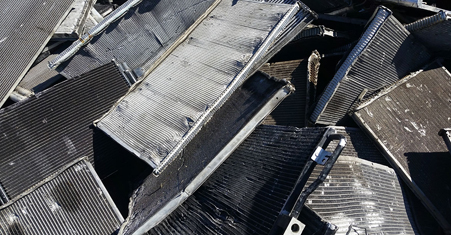 Car & Truck Rim or Wheels
Shall consist of clean, single-piece, unplated aluminum wheels of a single specified alloy, free of all inserts, steel, wheel weights, valve stems, tires, grease and oil and other non-metallic items. Variations to this specification should be agreed upon
Baled Aluminum used Beverage Can
Must be magnetically separated material and free of steel, lead, bottle caps, plastic cans and other plastic, glass, wood, dirt, grease, trash, and other foreign substances. Any free lead is basis for rejection. Any and all aluminum items, other than used beverage cans, are not acceptable.
All Aluminum Radiators from Automobiles
Shall consist of clean aluminum radiators and/or condensers. Should be free of all other types of materials. All contaminants including iron, plastic, and foam not to exceed 1% of weight
Variations to this specification should be agreed upon prior to shipment between Global Metals and Iron Inc. and the seller.