Are you confused about what to do with the unwanted metal appliances and tools? Metals in their extracted state offer a number of advantages and uses. In contrast, they can pose several environmental hazards in their corroded or leftover conditions. At Global Metals & Iron Inc., we are your locally owned and operated Etobicoke based scrap metal dealers offering a wide range of scrap metal and scrap car recycling services.For past many years, we have managed to earn an industry reputation by providing high quality ferrous and non-ferrous buying and selling services to residential, commercial and industrial clients.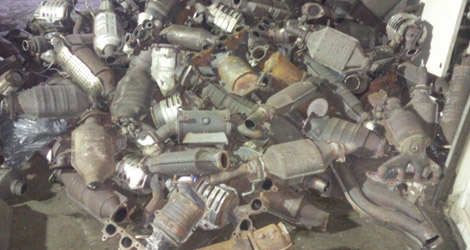 We are your one-stop shop for all scrap metal recycling in Etobicoke. Whether it's purchasing, selling, recycling or processing of scrap cars and catalytic converters, we pay you the top market price.
We Recycle Ferrous & Non- Ferrous Metals
We buy and recycle almost every unwanted metal you have on your property. With us, you will definitely get the best price for your scrap metal or old vehicle. We specialize in the selling and supply of high quality scrap metals in Etobicoke.
We recycle:
Iron
Steel
Stainless steel
Brass
Copper
Exotic metals
Aluminum
Electronics
Catalytic Converters
Worn-out cars
What We Do?
No matter, you are our loyal client or a first-time customer, you'll only receive the highest quality of service with the level of workmanship and professionalism exhibited by our scrap dealers. At Global Metals & Iron Inc., we can handle any size of scrap load, right from the small to large. With us, you can rest ensured all the ferrous and non-ferrous metals we pick are disposed and recycled safely. Some of our scrap metal services include:
Recycling & supplying scrap metals
Commercial waste disposal
Domestic waste disposal
Ferrous and non-ferrous metals
Recovering waste batteries
Catalytic converters & cables
Scrap auto removal
Junk cars and trucks
Unwanted & wrecked vehicles
We are concerned about our surroundings and environment, this is the reason we specialize in the eco-friendly recycling of scrap metal practice to transform them into valuable raw materials.
Contact Us For Scrap Metal & Scrap Car Needs.