Global Metals & Iron Inc. is your locally owned and operated business that is proudly making scrap metal recycling and processing in Scarborough as simple as 1 2 3. Over the years, we have been successfully serving residential, commercial and industrial clients with buying, selling, upgrading and packing of ferrous and non-ferrous metals. No metal, it's a worn-out refrigerator or a junked car, we cater all your needs. You can trust our trained crew of scrap metal dealers in Scarborough to handle both small and large volume of wrecked vehicles, damaged appliances, and corroded tools.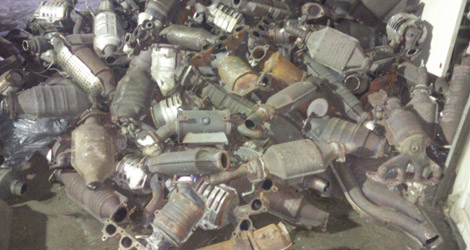 With us, you can rest with peace of mind as we take care of everything right from the loading to processing.
Aluminum
Brass
Bronze
Copper
Lead
Nickel
Stainless Steel
Insulated Wire
Electronics
Appliances
Catalytic Converters
Batteries
Auto Parts
Auto Radiators
Carburetors
Electric Motors
Scrap Cars
& Many Others
Eco-friendly Scrap Metal Recycling in Scarborough
At Global Metals & Iron Inc., we are concerned about our environment and your hygiene. Our goal is to undergo safe and proper recycling of scrap metals, thereby conserving the natural metal ores. We do this by recycling as much of extracted and used materials as we can along with keeping them out of landfills. By following the latest environmental standards, we are working hard to minimize the adverse impact of hazardous metal on our surroundings.
Why Choose Us?
Being a family run business, we are committed to deliver high quality services to maintain our industry reputation. No matter, which metal or scrap car in Scarborough are you selling, we strive to provide the best market value for it. With the modern techniques and approaches, we offer advanced recycling and processing solutions. Some reasons to choose us include:
Safe & secure recycling
Free loading
Top market pricing
Eco-friendly processing
Call Us To Buy Or Sell Scrap Metals in Scarborough!